This big batch cocktail is a floral take on the classic Tom Collins drink. Made in a pitcher with Master of Mixes' Collins Mix it has notes of elderflower, mint, lemon and lime.
This post is sponsored by Master of Mixes. For more information on sponsored content please see our please see our Site Policies for further information. Recipe is for those ages 21+.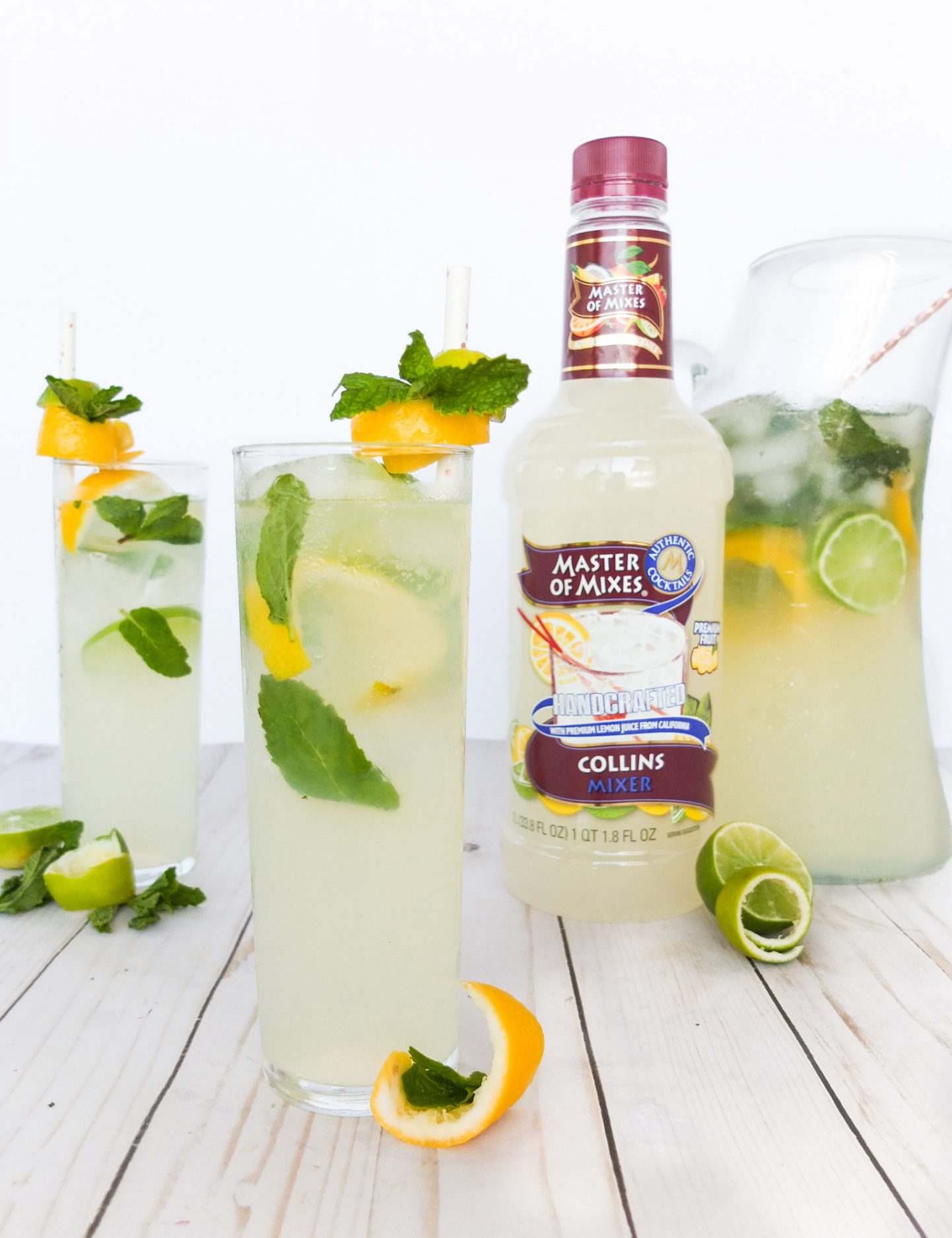 It's the first day of Spring! That means the season of entertaining is here and it's time to start planning your next shindig. A question I often get in my inbox is "How can I make a big batch cocktail that taste similar to "x" drink?".  To help answer that I decided to share my steps for making these big batch cocktails and punches. I even got together with Master of Mixes to showcase these tips by creating Tom's Garden Cooler. This big batch cocktail is a light and floral play off the classic Tom Collins drink. It's perfect for spring entertaining or boozy summer evenings.
HOW TO MAKE BIG BATCH COCKTAILS

Making big batch cocktails or punches is an easy process. It only requires 4 key steps that you can customize to fit your occasion or drink. Like my Tom's Garden Cooler it uses the steps of base, amplifiers, garnishes, and fizz. So let's break those down.
BASE
This is the main note of your punch. It's the flavor that hits you first while the other flavors come creeping in. This will also be the bulk of your punch and makes up for around 40-45% of your liquid. So make it something everyone will enjoy! Examples being:
Fruit Juice (Pineapple, Orange, Cranberry, Apple, Grape, Grapefruit)
Lemonade/Limeade/Pink Lemonade
Master of Mixes Mix
Tea
Cider
One of my favorite bases is to use a Master of Mixes mix. Like in my Tom's Garden Cooler I used Master of Mixes premium Collins Mix and 100% Key Lime Juice. This creates a base that is light, tart, and a touch sweet. Since their fruit is picked at the peak of ripeness when it is the most plump, juicy and fragrant. It means Master of Mixes flavors are bursting with real fruit flavor for an authentic taste. Therefore, I didn't have to spend extra time squeezing the bulk of limes and lemons to create this big batch drink!
AMPLIFIERS
This is where we talk about the things that amplify the base such as booze and flavor boosters. In my Tom's Garden Cooler, we've got 3 different kinds. Gin plays as the booze, Master of Mixes Mint Syrup is the flavor booster, and Elderflower Liqueur is both! When thinking what to add to your punch think flavors that marry together. Gin in this case is a botanical flavor which plays well with other botanicals and citrus. If you want to make a mocktail punch you can sub in a base flavor as an amplifier. One of my favorite mocktail punch subs is coconut water. Amplifiers account for roughly 15-20% of your punch. Examples:
Liquor (Whiskey, Tequila, Coconut Rum, Vanilla Vodka, ect)
Flavored Simple Syrups (Mint, Strawberry, Citrus, Rosemary)
Schnapps and Liqueur (Peach, Elderflower, Irish Cream, Orange ect)
Sherbert, Ice Cream, Sorbet
Coconut Water
If you're completely lost, a good place to start is if your base is light in color, use light liquor. If it's dark in color, you can go for a darker liquor. Later on you can come back and add in syrups and liqueurs after you test your punch for sweetness or more pizzazz.
INFUSE & GARNISH
If you're thinking about making your punch ahead of time, you could consider infusing fruit into it. Think Sangria style punch, if you will. Cut yourself citrus wheels or apple slices. Add it to your punch and let sit for 1-4 hours before serving. It creates a fantastic freshness and natural sweetness that's ah-mazing. If you want to skip the infusing you can add in these beautiful fruits or fresh herbs within the hour of consuming. Let guest ladle out the fruits for their own garnishes! Infusions & garnishes account for 3-5% of your punch. Examples:
Apple slices
Citrus Wheels (Grapefruit, Lemon, Lime)
Berries (Strawberry, Blackberry, Blueberry)
Coconut Flesh
Melon (Watermelon, Honeydew)
Pineapple
Herbs (Rosemary, Mint, Thyme)
Cucumber
Ice and Froze Ice Flowers (add to pitcher or bowl right before serving)
Now you might be thinking ice? YES! Ice is an infuser because it's adding the water necessary to big batch cocktails. Very rarely do you come across a cocktail that isn't shaken or stirred with ice. This is replicating that same concept. If you're creating a hot punch, then you'll want to add in 1/4 – 1/2 cup of water before you serve it. For my Tom's Garden Cooler I did a mix of regular ice and ice cubes with mint frozen in them!
FIZZ
Carbonation, bubbly, soda, or anything that goes fizzzzzzz. Making up for 25-30% of your punch this last ingredient gives big batch cocktails that little kick it needs. You'll want to save this part until you're ready to serve that way you don't end up with a flat punch. Personal I think Club Soda is an easy staple! Examples:
Club Soda or Tonic Water
Soda (Lemon-Lime, Orange, Grape, Grapefruit, Cream, Root Beer)
Ginger Beer or Ginger Ale
Flavored Sparkling Water
Champagne or Sparkling Wine
Beer
Tip: Keep your carbonated liquid chilled that way it helps to slow the ice from melting too quick in your punch.
TOM'S GARDEN COOLER

See how easy it is to create endless types of Big Batch Cocktails? Following this guide you can even sort out how to take your favorite singular cocktail and make it into a crowd serving drink! The possibilities are truly endless. Now that you have learned the how and why, check out how I apply them in making this Tom's Garden Coolers. This big batch is minty, floral, and citrus goodness. It's light and perfect for hosting at spring garden parties or summer soirees.
Tom's Garden Cooler
This big batch cocktail is a floral take on the classic Tom Collins drink. Made in a pitcher with Master of Mixes' Collins Mix it has notes of elderflower, lavender, mint, lemon and lime.
Servings
:
8
12 oz Cocktails
Ingredients
1

bottle

Master of Mixes Collins Mix

(33.8 ounces)

16

ounces

Gin

(2 cups)

8

ounces

Master of Mixes Lime Juice

(1 cup)

4

ounces

Elderflower Liqueur

(1/2 cup)

2

ounces

Master of Mixes Mint Syrup

(1/4 cup)

20

ounces

Club Soda

(2.5 cups)

Ice

(roughly 1.5 cups)

Lemon & Lime Curls

Mint Leaves
Instructions
Into a large pitcher add in one bottle of Master of Mixes Collins Mix, gin, lime juice, elderflower liqueur, mint syrup, club soda and ice. Gently stir until well combined. Serve in highball or Collins glasses filled with ice and garnisehd with lemon & lime curls.
Recipe Notes
This makes 96 ounces of punch. 

Talk about an easy way to entertain right? I'm super happy with how Master of Mixes Collins Mix, Lime Juice, and Mint Syrup has made this cocktail come together. It's made for a more efficient creation experience. Master of Mixes gives you the inspiration, ingredients and tricks you need to take your at-home cocktails and big batch drinks to the next level. I hope this has smoothed the waters in how you can go about creating a new punch or batch cocktail for your next party. With the warmer weather, I'm looking so forward to all the entertaining to come. In the past, what has been one of your favorite big batch cocktail drinks?
Check out MixologyPro.com, for more resources on at home bartending and cocktail making.
Remember to save this post to Pinterest!