The numbers are in and these are the best cocktail recipes and the best food recipe on Elle Talk in 2018!
This post contains affiliate links, please see our Site Policies for further information.
How is 2018 already coming to a close? First and foremost, I want to start by ending 2018 with a thank you. Thank you for coming here to read my ramblings in food and cocktails. Thank you for choosing to buy stuff that I recommend. I mean, you all have bought nearly 600 olive stuffers this year from my Amazon store or this martini post. Thank you for all the comments, emails, and social media messages sharing your photos of the food and cocktails you make. Thank you for sharing in my Instagram tag #BoozyTalk to get to know bars, bartenders, home shakers, and casual drinkers. It's because of you, I can keep this little blog alive. It may seem like little things but in the end, they have big impacts. I truly couldn't have done half of the amazing stuff I did this year without your support, love, and boozy curiosity. What all did exactly happen this year on Elle Talk?
THE HIGHS OF 2018 ELLE TALK
We hit 1 MILLION views.
Elle Talk was an ambassador for Master of Mixes.
#BoozyTalk hit 20,000 uploads from all over the world!
Elle Talk took over Liqour.com's Instagram for a week.
Elle Talk was featured on Country Living, Good HouseKeeping, Redbook Magazine, Delish.com, and PETA. (okay, that one was a little odd.)
I ran my first half marathon!
We worked with awesome brands from Exotico Tequila to repeat favorites like Torani.
We added way more food to the cocktail mix and hope to keep doing so!
Thank you, truly, for all of these moments from the big ones to the small ones.
Enough about me, let's take a look at what you all loved this year. Did your favorite 2018 Elle Talk recipe make the list?
Top 10 Recipes For Elle Talk 2018

Who doesn't love a jalapeno popper? Better yet who doesn't love them rolled up in flaky puff pastry? Perfect for game time, parties, or just because, you guys loved these sweet and spicy pinwheels. Read more here.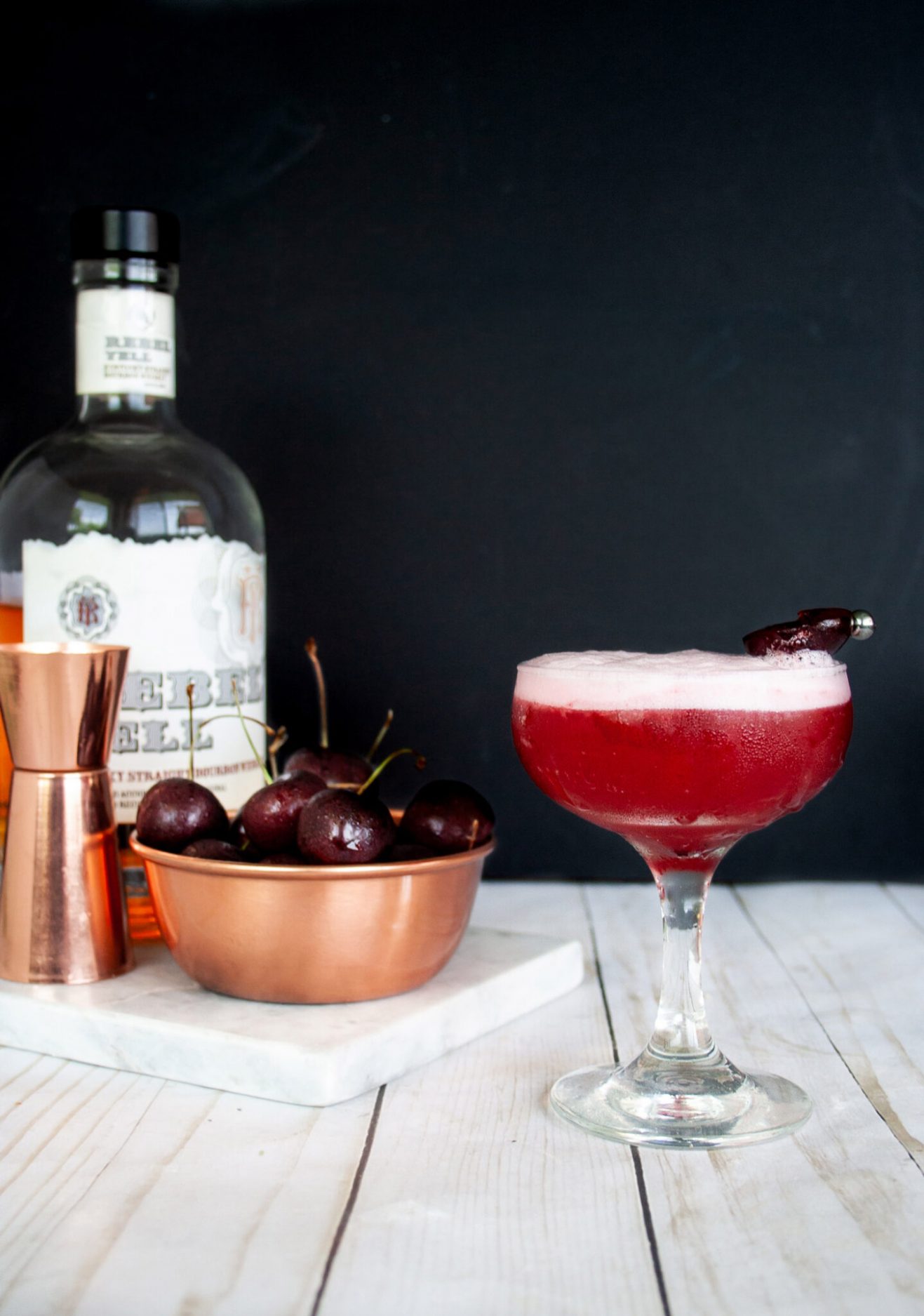 This sour is SOUR! With fresh tart cherries, bourbon, and the perfect egg white foam this cocktail is a feast for your barrel aged heart. Read more here.

My personal favorite of the year was this Thanksgiving Blood Orange and Cranberry Punch. This Master of Mixes cocktail comes together quickly in a pitcher for the ultimate festive punch. With gin and champagne, it's perfectly fancy for any celebration. So don't feel the need to wait for Thanksgiving to come. (You can totally sub in vodka if that's your thing too.) Read more here.

It's one of my favorite cast iron meals but anything that's similar to nachos will be. Crispy bacon, melty cheddar cheese, and garlic aioli top these fries baked in a cast iron skillet that's ready to be thrown back with a pint. Suprise, surprise, my boozy readers like bar food. Read more here.

You all loved these Master of Mixes posts they rank in at 11, 8, & 7 for the year. This Tom's Garden Cooler has refreshing notes of gin, mint, lime, and elderflower that will take you away to butterfly gardens and warm sunny days. Plus its chock-full of tips for making big batch cocktails! Read more here.

This burger and wine pairing takes Meatless Monday to a whole new level with Morning Star Farms veggie burgers in Mushroom Swiss, California Avacado, and a Greek Burger. Can you guess which wine pairs to which burger? Read more here.

The first cocktail of 2018, was one of your favorite cocktails of 2018. This Winter Citrus Sour uses ripe grapefruits and lemons to make a delicious sour to cut all that heavy holiday food. Winter citruses are back in season so get to shaking! Read more here.

Summer isn't complete without a little tiki cocktail fun. If you've been around here in the summer, you know I'm a tiki & tropical cocktail FAN. I was elated to see that this Torani Peach syrup take on the classic rum Mai Tai resonated highly with all of you too. Read more here.

We spent the summer cooling off with these adult popsicles that taste like berry, lemon, and raspberry. Made with vodka that tastes like the old Firecracker popsicles of our younger years, these cocktail pops made a splash this Fourth of July. Read more here.

Could this beer and whiskey cocktail have a more fitting name for our number one recipe for the year! We got together with Corona Light to make this beer cocktail with notes of grapefruit and mint that is a refreshing and satisfying sip all year long. From the horse track to the armchair, you can't go wrong with a beer cocktail in my book. Read more here.
I'm not going to lie the number one cocktail of Elle Talk in 2018, took me by surprise! I'm also surprised to see a love for sour cocktails, bar food, and whiskey-based drinks. I'll keep this all in mind as I start to plan content for 2019!
Since I can't do this without you, tell me more about what you want to see in the new year! I love getting to make cocktails and food for all of you. So share what you liked, disliked, and if there is something you'd like me to bring back. Even if it's running content or dog posts!
Again, thank you for an amazing 2018. This year has been fueled by you. Cheers friends and Happy New Year!