A black shimmering Halloween or Galaxy cocktail made with black vodka, lime juice, and simple syrup, Black Magic cocktail. Recipe for ages of 21+, please drink responsibly. This post contains affiliate links, please see our Site Policies for further information.
Updated OCT 10, 2019* Please see notes.
When I was a kid, Halloween was my favorite time of year. There was something magical about that spooky night that put electricity into the air for me.  Plus, candy, duh.
For me, Halloween wasn't about the scary things, it was about all the fun that came with the holiday. I loved making caramel apples, sherbet punches, and there were always crafts galore! Of course, as I've grown up, I've carried that same love of Halloween into adulthood. Except I get to have way more fun with it now.
Maybe it's from growing up with movies like Hocus Pocus, Harry Potter, and Practical Magic, but I am fascinated by witches. Not that I necessarily believe in them but the concept just entertains me. Since we learned that in the Harry Potter world, I'm a grade A potions master. It was time to take a stir into a little darker witch magic and trust me, you can't get much darker than this.
EDITOR'S NOTE:
This recipe has been changed from the original posting. You can find the original recipe at the bottom of this post, as I know some users did not have issues with it. There became many inconsistencies with how this cocktail turned out color wise. Sometime black, sometimes red. The cherry juice brands used caused these issues. So I apologize if you're coming from Pinterest and the ingredients are now different from the original posting we wanted to change the cocktail to ensure a black cocktail every time. This new vodka lime daiquiri cocktail  fixes the original issues.
To keep this cocktail black it needs to be a higher ABV cocktail, as it previously was, so please drink responsibly.
If you did enjoy the original recipe, prior to it's change, you can find it at the end of the post or you can email me to get it ElleHeathTalk@gmail.com. 
Cheers,
Elle
10/10/2019 note*
We've heard your concerns over not being able to find the blavoka last year and this year. I think it's been discounitued as we are not able to find it either. I'm currently working on a recipe for black vodka that does not use food coloring. When we have that finished, I'll note it here. In the mean time the food coloring way is your best bet.
I've seen suggests for using activated charcoal to make black vodka. To be clear, I've not suggested this. I do not suggest this and urge you to consult your doctor if you ever use it. Activated charcol can have effects on medicines, including the effectivness of birth control. Talk to your doctor before using activated charcoal. We don't need any unintended pumpkin babies made. So be safe and call your doctor!
Cheers,
Elle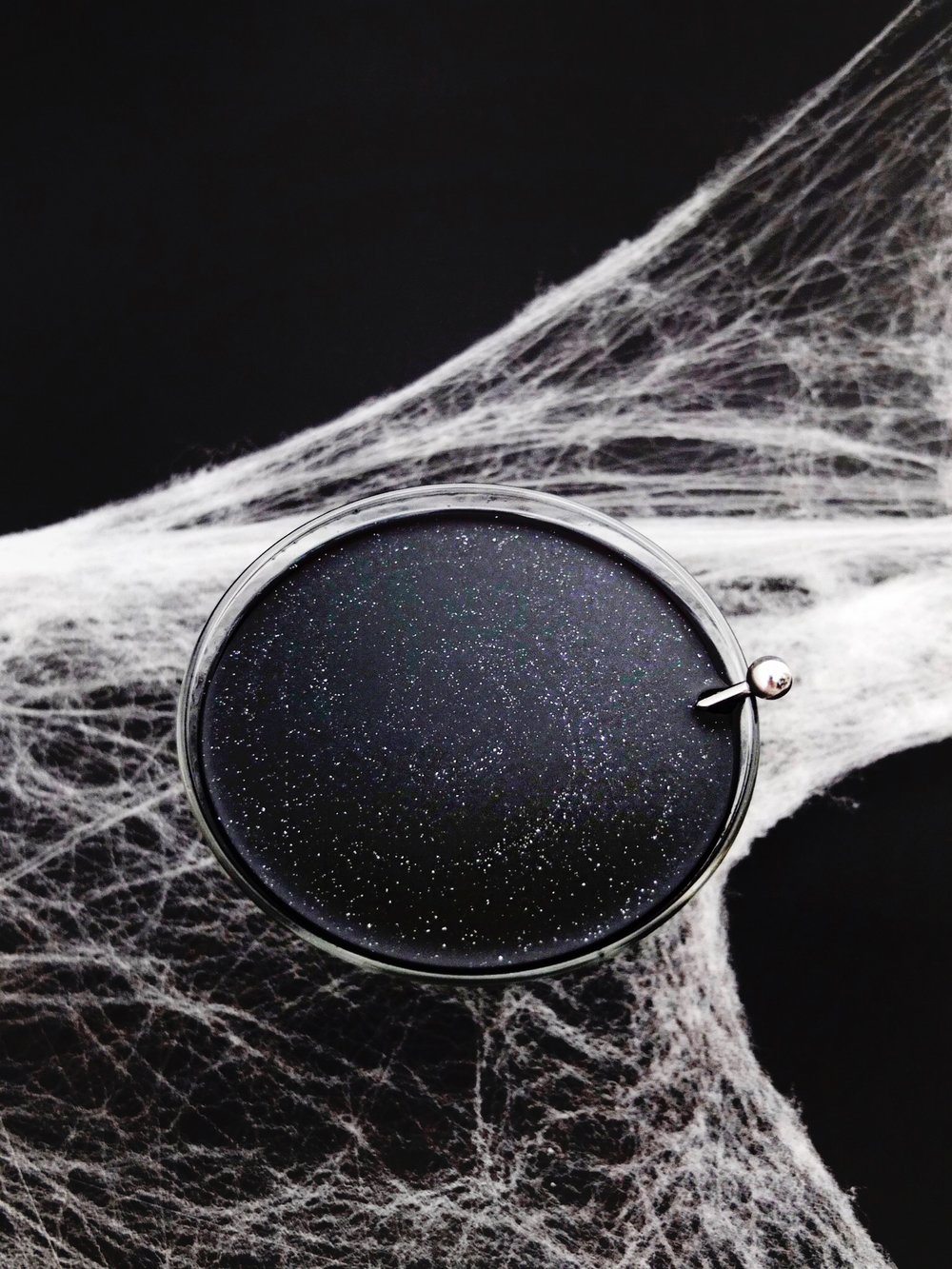 Black Magic Cocktail
A Black Magic/Galaxy Cocktail that is shimmering and black. A mix between a lime daiquiri and lime martini.
Ingredients
2.5

ounces

Black Vodka

3/4

ounce

Freshly Squeezed Lime Juice

2/3 - 1 Small Lime

3/4

ounce

Simple Syrup

Ice

Wilton Edible Pearl Dust In White

Find at craft store in baking aisle
Instructions
Into a cocktail shaker add in your simple syrup, lime juice, and black vodka. Fill with ice until the liquid line. Give it a hard shake for 30 seconds. Add a dash of pearl dust to the bottom of a martini or coupe glass. Pour cocktail into your glass and serve. Add more pearl dust if it's not shimmery enough and stir it with a bar spoon to combine it.
Grab the Wilton Pearl Dust in White
here. You can also use the colors in Silver & Gold for different effects. These photos are using the white color.
Black Vodka DIY
In this recipe, I use Blavod Black Vodka. This vodka can be hard to come by in certain areas. Though always easier around Halloween time. There are other companies who have come out with black vodkas, so use whatever you can find. If you have trouble finding it you can make your own. I will warn this is messy and like using most food dye it will stain your mouth.
Into a separate jar add 1 cup of vodka (plain or flavored) and 4 drops of Wilton Black Icing Color. Stir or shake until fully combined. Keep in an airtight jar in the fridge until use. Use the same portions as the recipe.
---
Tell me one of your favorite things about Halloween, if you celebrate the holiday. I'd love to hear all your stories filled with tricks and treats!
ORIGINAL RECIPE:
2 oz Black Vodka
1.5 oz Real Cherry Juice (Deep red color not fake red)
1 oz Orange Juice
0.5 Maraschino Cherry Syrup (Liquid in the Maraschino Cherry Jar)
Pinch of Wilton Pearl Dust
Ice
In the bottom of a shaker add your black vodka, cherry juice, orange juice, maraschino cherry syrup (liquid in the maraschino cherry jar), and pinch of pearl dust. Add in your bar spoon, the ice to the liquid line, stir your cocktail until chilled, about 10 seconds. Strain into a chilled martini glass and serve. Garnish with orange peel or maraschino cherries. I recommend making this ahead of time and test out how to set up lighting on your drink table to get the most glitter effect. In a dark room the glitter is harder to see.
If you find the cocktail pulls brown on you, remove out the orange juice and up the cherry juice to 2.5 ounces. It should help keep the dark color.